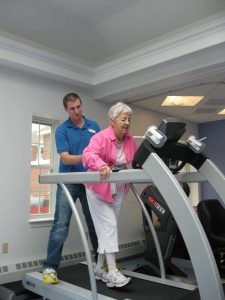 Are you anticipating a rehabilitation stay in the new future?  Whether you have an upcoming surgery scheduled, or you or a loved one is experiencing an unexpected rehabilitation stay, here are a few tips that may help your return home easier.
Expect things to be different.  Recovery can take a while and in some cases you may need to make modifications around the house or get extra assistance from caregivers. Recognizing that these adjustments will ultimately result in a safer and more comfortable living environment may relieve some of the stress associated with the transition.
Start planning early. If you think you'll need to make some changes around the house, or if you'll need extra assistance, don't wait until you're home to start planning. Touring a rehabilitation center before your planned surgery will not only acquaint you with the therapists, staff and accommodations but will also give you information on possible services and equipment you may need when going home. At The Cedars, our Occupational or Physical Therapists may make a home visit with you before you return home in order to trouble shoot any issues, assess the living environment and make recommendations. Be ready to complete home modifications before going home. Make a list of potentially difficult situations and discuss possible solutions with your therapists.
Stay focused on goals. Recovery should continue when you go home. Discuss a daily routine with the Physical, Occupational and Speech Therapists, and work with caregivers to set short and long-term goals while at home. Staying focused on goals will motivate you to get stronger, and you'll minimize the risk of returning back to a hospital or rehab facility.
Take advantage of resources. There are a lot of things to think about when transitioning back home, but your rehab facility will guide you as you make crucial decisions regarding home health services, medical equipment or adaptive equipment that may be needed. At The Cedars, the Care Coordinators work with the Rehabilitation Team to determine what services and equipment are needed for you to succeed at home. They will then assure services are in place. They can also put you in touch with resources available within your community, such as delivering meals, light housekeeping, transportation and counseling, all of which will provide a helping hand while still enabling independence.
Recognize that it's ok to have help. Some people are embarrassed about needing assistance after transitioning home, and some family caregivers feel that they can take care of their loved ones all on their own. It's important to be realistic about the level of care that will be required, and it's ok to have extra help. Getting help isn't a sign of weakness, but one of strength and care. The earlier you start planning, the healthier and happier you'll be.
For more information on Rehabilitation at The Cedars, contact us at 207-221-7000 or visit www.thecedarsportland.org
Excerpted from an article written by Tammy Luther, director of rehabilitation and therapy services at A.G.Rhodes Health and Rehab in Atlanta, Georgia: 5 Tips for a Smooth Move from Rehab to Home.