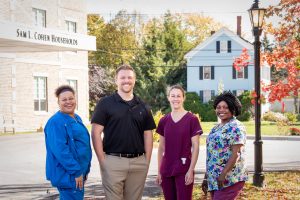 The Cedars is an award winning, non-profit innovator in senior care with a long history of providing excellent care and services to our residents. A large part of our success is due to the high-quality, dedicated team of employees.
If you'd like to bring your talents and skills to a mission-driven organization that is committed to person-centered, compassionate care and to providing growth opportunities through education to our staff, please contact us. At The Cedars, you'll find an exceptional environment of learning and support, excellent compensation, and the opportunities for professional and personal growth. At The Cedars, WE CARE.
Wellness: Our holistic programming addresses the mind, body and spirit.
Education: We prioritize learning and provide accurate, comprehensive information and advocacy on aging.
Community: We honor the contributions made to our community by our seniors and the promise between generations to provide for their care.
Accountability: We plan strategically, work ethically, measure progress accurately and communicate honestly about our outcomes.
Respect: We celebrate the inherent value of every person—their wisdom, culture, experiences and perspectives.
Excellence: We work mindfully and strive for the highest quality.
Start a Career in Healthcare: Paid Trainings at The Cedars
Would you like to start a career in healthcare? We offer trainings and, once hired, career growth, great pay and benefits, and a caring community! We are now interviewing for the following PAID TRAINING positions:
Certified Nursing Assistant: 
The Cedars is offering an earn while you learn CNA paid training program, all classes will be held in person on The Cedars campus.
Personal Support Specialist: Ongoing training opportunities available.
We will hire you to start training in either Assisted Living or Memory Care Assisted Living while you take online classes to get your PSS certification. Then you can get experience in caring for older adults in a person centered environment and then would have the opportunity to take the CRMA course, to pass medications in assisted living. 
For more information and to arrange an interview time, contact Kelly DiBiase, Recruitment Specialist at The Cedars at 207-221-7000 #3673 or kdibiase@thecedarsportland.org.