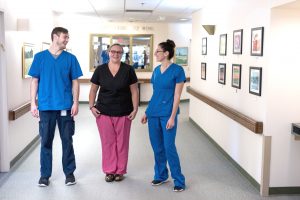 The Cedars is an award winning, non-profit innovator in senior care with a long history of providing excellent care and services to our residents. A large part of our success is due to the high-quality, dedicated team of employees.
If you'd like to bring your talents and skills to a mission-driven organization that is committed to person-centered, compassionate care and to providing growth opportunities through education to our staff, please contact us. At The Cedars, you'll find an exceptional environment of learning and support, excellent compensation, and the opportunities for professional and personal growth. At The Cedars, WE CARE.
Wellness
Our holistic programming addresses the mind, body and spirit.
Education
We prioritize learning and provide accurate, comprehensive information and advocacy on aging.
Community
We honor the contributions made to our community by our seniors and the promise between generations to provide for their care.
Accountability
We plan strategically, work ethically, measure progress accurately and communicate honestly about our outcomes.
Respect
We celebrate the inherent value of every person—their wisdom, culture, experiences and perspectives.
Excellence
We work mindfully and strive for the highest quality.