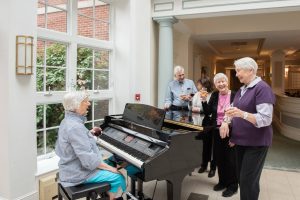 What are the benefits of choosing a non-profit retirement community?
The Cedars has been a non-profit organization with a mission to serve older adults since 1929.  We are a stand-alone organization, not part of a larger company.  As a non-profit we exist to serve our community, not to generate dividends for shareholders.
What does it cost to live at The Atrium?
Members pay a one-time, 90% refundable entrance fee which secures your apartment.  Entrance fees start at $330,000 for one-bedroom apartments, and at $465,000 for two-bedroom apartments. No additional deposits will ever be required.  If you move from The Atrium, the 90% refund goes to you.  If you spend your life here, the refund would go to your heirs.  The refund is paid once your apartment is re-occupied.
Monthly fees start at $3200 for a one-bedroom apartment, and $4200 for a two-bedroom apartment. See below for all that is included in these fees.
What is included with the entrance fee and monthly fees?
We believe in keeping it simple, and our monthly fees cover most of your apartment expenses, except phone, cable TV beyond basic, and internet access.  Included in the monthly fees are the following:
One meal per day, either lunch in our café or dinner in the main dining room, with brunch on Sundays
Gratis continental breakfast
24-hour emergency call service
Transportation to personal appointments and scheduled activities, available four days per week
Weekly housekeeping including flat linen service (washer/dryers in your apartment)
Basic cable in the apartments
Wireless internet in common areas
Extensive activities program including excursions to many area destinations
Unlimited access to all common areas including pool, spa, fitness studio, movie theater, library, living room, private dining room and more
Priority access to The Osher Inn assisted living, The Rehabilitation Center at The Cedars, skilled nursing care at The Cedars, and community-based outpatient programs
In addition, your monthly fee includes the following utilities and services:
electricity
water and sewer
property taxes
building insurance
snow removal
reserved parking
grounds keeping
trash removal
interior and exterior maintenance
custodial services
security patrol
Will my monthly fees ever increase?
The trustees and management at The Cedars look at the cost of labor, food and energy on an annual basis and may increase the monthly fees. The average increase over the past five years has been 2.9%.
Will I own my apartment at The Atrium?
No. The refundable entrance fee gives you access to your apartment home and the benefits of living in a community.
Will I be responsible for selling my apartment when I move out?
No. The Sales and Marketing team at The Cedars will refurbish and market your apartment.
What happens to my entrance fee if I need to move to a higher level of care? The Cedars is a "pay as you go" community, not a CCRC or Life Plan Community. We do not require additional life-care fees upon moving in; you will only pay for care that you receive at The Cedars.  If you choose to move from your apartment at The Atrium to our Assisted Living or Skilled Care Center then we will market your apartment and once re-occupied, will refund 90% of your entrance fee.