A brand-new residence designed just for you

Assisted Living at The Households offers an entirely new level of enhanced, person-centered care in a real home at the heart of The Cedars community. Welcoming private rooms and baths. Cozy and comfortable common spaces. Innovative programs and therapies. Close relationships with trusted and responsive caregivers.
If mobility challenges or health setbacks are holding you back from living a life you love, see the Households for yourself. Here, life is filled with choice, connection, and opportunity, where you can decide how to spend your days with the support and encouragement of our dedicated, award-winning, highly trained staff.

This is your new home.
Older adults who cannot live safely at home should still feel right at home. 
Assisted Living at The Households creates a cozy environment 
filled with meaningful activities and personalized comforts and choices.
Welcoming private residences with ensuite baths


A full kitchen, always open and stocked with favorite snacks and treats


Cozy den and living room with games, computers, and books

Private dining room for celebrations with family and friends

Bright sunporches and stunning landscaped grounds

Silent monitoring and call systems allow staff to respond immediately without disturbing the serene sense of home

Your days are always your own.
Just as they do at home, residents of Assisted Living at The Households make their own choices as they live full and vibrant lives—with the safety and peace of mind only award-winning medical care and therapies can provide.

Individual care plans based on preserving independence and honoring personal preferences


Needs met in the moment by trained and trusted caregivers

Positive, empowering philosophy of care and a holistic approach to wellness


Award-winning care and innovative programs that The Cedars has been recognized for since 1929


Medical and nursing staff on call 24/7 to provide help with activities of daily living, physical, occupational, and speech therapies to extend independence, and care for chronic conditions, with preferred access to higher levels of care as needed

A new level of luxury in assisted living.
Assisted Living at The Households lets you live a life you truly love, by freeing you from frustrating or painful tasks and chores and providing reassurance that help is always at hand.

Tempting indulgences, treasured family recipes, and delicious healthy choices prepared by our Executive Chef


A Salon and Day Spa for relaxing interludes and self-care


A whrilpool and tub for relaxation and recovery


Weekly housekeeping, personal laundry and linens service, bedmaking, and on-call maintenance services


Safe, reliable, and comfortable transportation to local appointments


Beautifully appointed surroundings that offer calm and comfort

There's so much to look forward to—and do.
Aging may change our physical capacities but our desire to learn, grow, and connect with others only deepens over time. Assisted Living at The Households offers independence and autonomy within a close-knit community. Our positive, person-focused approach provides meaningful activities, innovative programs, and a sense of purpose and wellbeing for all of our residents.
Enjoyable and rewarding outings and adventures. Cultural performances and lectures. Supervised exercise and wellness programs. And spontaneous, in-the-minute activities based on resident preferences. At The Cedars, we don't just care for residents. We care about them. Each resident is seen, valued, and celebrated for who they really are—just like home.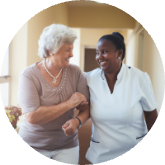 "This community continues to make me so happy we chose The Cedars to care for my grandmother. Thank you!"
  —A. BAKER, FAMILY MEMBER
Now accepting reservations
The newest level of care in the The Sam L. Cohen Households at The Cedars, Assisted Living at The Households is currently accepting reservations. If physical challenges or health setbacks are making the activities of daily life a struggle instead of a joy, talk to The Cedars about becoming one of the first older adults in Maine to experience a vibrant, healthy life of your choosing in a beautiful home you truly love.