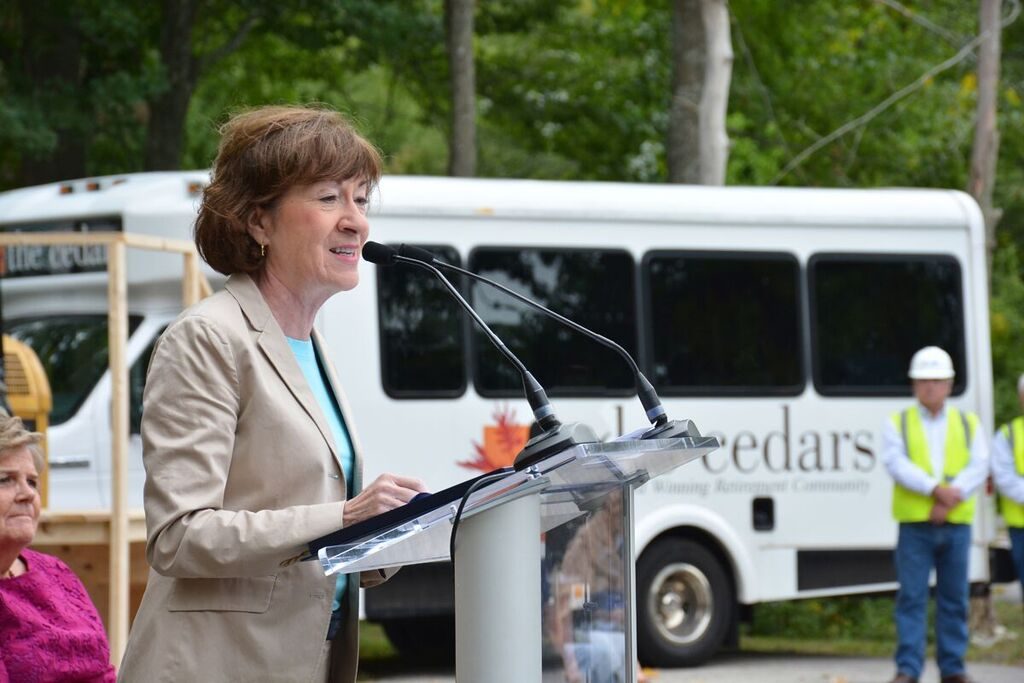 The Cedars welcomed our community to join us in commemorating a powerful and pivotal moment in the Grow Bold With Us Campaign.
THE DAY BEFORE the groundbreaking ceremony for the much-anticipated Sam L. Cohen Households, construction crews arrived at The Cedars to begin tearing down a building set on the corner of our campus, clearing the way for the construction to come. By the time honored guests, supporters, community members, staff, and residents arrived on September 21, enormous excavators surrounded the crisp white event tent. The air was charged with excitement, optimism, and change. After so much hope and hard work, the first senior living community to implement the Household Model in Maine and New England was about to be the first to construct a residence specifically designed to be a true home for seniors.
CREATING HOME
Long before The Cedars broke ground for this innovative new building, our staff laid the groundwork to implement a new way of supporting seniors in their later years: the Household Model of care.
"Seniors of today and tomorrow don't want the model of care experienced by their parents and grandparents," Kathryn Callnan, President and CEO of The Cedars, told guests. "They want rich experiences. Choices. A home environment. The Cedars has always understood that seniors want privacy, autonomy, and the ability to make daily decisions about how they wish to live their lives even though they are no longer able to live independently at home."
The Cedars staff has spent the last two years training for and implementing the Household Model of care. Thanks in part to the generosity of the Sam L. Cohen Foundation, they will soon have a space designed to support it.
COMING HOME
The Cedars has always practiced person-centered care, and for the past 24 months has provided specialized training to dramatically shift the way staff gives care towards a person-directed model. However, completely implementing the Household Model requires building a radically different kind of space – one with distinct hallmarks of home. Private rooms and bathrooms. Welcoming common areas, like a kitchen that is always open and stocked with favorite foods. A front door, with a doorbell, that chimes a clear signal: this a private home for people living rich and meaningful lives.
The Sam L. Cohen Foundation's contribution has helped to fund the construction of this cutting-edge residence to honor the late Sam Cohen's many connections to The Cedars, his lifelong legacy of philanthropy, and most of all, his legendary love of gathering with family and friends.
BOLD SOLUTIONS FOR BIG CHALLENGES
The Groundbreaking Ceremony featured national and local political figures as well, as the Households have significance for seniors far beyond Maine's shores. As the nation's population rapidly ages, the demand for skilled healthcare workers and personalized senior living continues to grow. At this critical point, The Cedars has taken the lead—proposing bold initiatives for workforce development and training, partnerships for research and learning, and new living options for our later years.
After all, Maine has the oldest population in the nation. The "silver tsunami" will hit this state particularly hard and our elected representatives are keenly aware that now is the time to act.
The ceremony's keynote speaker, Senator Susan Collins continues to be one of the country's most reliable advocates for seniors. As chair of the Senate Special Committee on Aging and co-chair of the Congressional Task Force on Alzheimer's Disease, she has worked to increase funding for Alzheimer's research and to strengthen support for family caregivers. Senator Collins has met over the past few years with John Watson, Chief Financial Officer at The Cedars, to discuss specific long-term care legislation and most recently review Medicaid funding considerations critical to Maine's poor elderly in advance of the historic health care vote. Senator Collins spoke passionately of the potential for this model of care to transform how we age in Maine—and beyond.
"For nearly 90 years, The Cedars has helped Maine seniors live their lives to the fullest… working together, in Washington, D.C. and in communities across the nation, we are building a shared vision for aging that is centered on health, wellness and community." – SENATOR SUSAN COLLINS
A NEW LEVEL OF CARE
 In addition to the two skilled care Households, The Sam L. Cohen Households will provide the newest level of person-centered care at The Cedars—Memory Care Assisted Living.
The Cedars knows that people with memory loss can engage in meaningful activities, make decisions about how they want to spend their days, and participate in their own health and wellness. At The Cedars, they will.
Each resident will receive a thoughtful evaluation and strengths-based assessment from dedicated staff trained in the Teepa Snow Model of Postive Care. Caregivers will provide positive, powerful therapies designed to respond to changing abilities and personalized to each resident's Life Story.
Innovative programs will be offered on a daily basis to promote choice, preserve dignity, and respect individuality—always putting the person first. In addition to a full calendar of group activities, staff will provide spontaneous activities—day and night—to meet in-the-moment needs for social engagement, self-expression and mindful connections.
"Our new Memory Care Assisted Living Household for seniors with more advanced memory loss will help preserve cognitive function and, most importantly, independence," Kathryn Callnan assured guests. "We can make a promise to our community: when you come to live at The Cedars, you have come home."
To learn how you can support bold new initiatives for seniors, call the Development Office at 207-221-7007 or email development@thecedarsportland.org.