Strategies to Help Your Parents Feel at Home in a Retirement Community
Moving your parent(s) into a retirement community can be a very difficult process. We've met with hundreds of families and have put together some of the best tips we've seen for children to make the transition easier.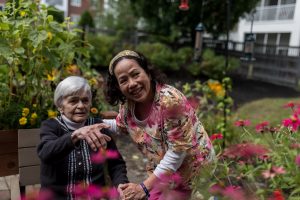 Your family worked together to help your aging parents make a big decision: moving into a retirement community, like assisted living or long- term skilled nursing care. Their lives are about to become safer, simpler, and more rewarding, and the transition to a retirement community does not need to be stressful. Our quick tips guide can get you started on moving elders with ease.
Yes, moving a parent to a retirement community is a big change—a change for the better. These benefits include more opportunities to socialize, make new friends and engage in meaningful activities, with caring supportive staff to assisting with activities of daily living, around-the-clock access to healthcare, nurses, CNA's and much more. Your aging parents are about to start a wonderful new chapter of their lives and you will soon be able to breathe a big sigh of relief.
That said, change isn't easy for any of us, and adjusting to a retirement community is a big change, and we all find change unsettling at first. How can you support your elderly parents as they make this transition?
Community
Many older adults avoid retirement communities even if they are struggling to age in place, because they associate care options such as long term skilled care and assisted living with social isolation. This style of living Is not lonely. It is not abandonment. It is exactly the opposite! Retirement living offers a welcoming community of older adults just like your parents, who now have the free time and support to make and socialize with new friends.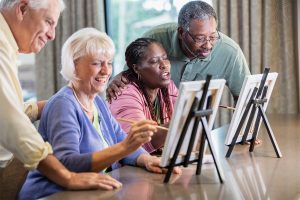 A new retirement community for elderly parents is a bit like starting a new job or a new school and first-day jitters are understandable. Acknowledge your parents fears about being lonely in their new home and listen sympathetically as they express them. Make it a priority to be close by during the first few days or weeks and reassure your parents that you will visit them frequently to help them settle in. Consider reaching out to their friends or neighbors and asking them to pop by to see the new apartment and admire the amenities. Encourage your parents to join group activities or sit with someone new in the dining room and send emails or texts throughout the day to ask how things are going.
If you can help them make this initial adjustment, your parents will soon be making connections and finding activities they enjoy. You might have a hard time keeping up with their busy social schedule!
Perspective
If your elderly parents express frustrations with a new environment, new routines, and new people, see if you can reframe their feelings in a more positive light. "The kitchenette in our apartment is so small" can be an opportunity to ask about the best new dish they've tried in the dining room, or how great it is to no longer need to do dishes or clean every night.
As they make new friends, try new activities, and start exploring their new community, celebrate these wins and talk openly about these improvements. Keeping small frustrations in perspective can really help improve their mindset.
Technology
Make sure they have access to a smartphone, tablet, or computer they feel comfortable using to stay organized, engaged, and connected. There are many easy-to-use devices that can make it easier for your elderly parents to remember important milestones or routines, track their medications and fitness goals, participate in remote gatherings and family group chats, and more. Not sure which type of tech makes the most sense? The Cedars has a great guide on how the latest technology can keep older adults connected to their families and their communities.
Routines
Familiar routines are very reassuring for everyone, and the move to retirement community living for elderly parents disrupts the rhythms of the day. Once your parents have moved in, however, they can begin re-establishing (or reinventing) their routines.
At The Cedars, our passionate care team practices true person-centered care, and every resident can choose when they wake up, when they go to bed, and what they do with the time between. As your parents make choices about how they wish to spend their days, encourage them to keep meaningful rituals and activities—a cup of coffee while reading the morning news, an afternoon walk, a weekly phone call with loved ones, tea and cookies before bed—while adding new, fun, and engaging elements to their daily lives.
Now that your parents have more free time and support, they can pursue favorite hobbies, learn new skills, make new friends, join new groups, and try new things.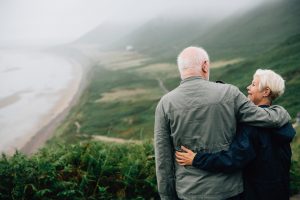 Home
Believe it or not, at some point soon after moving into their new community, It will start to feel just like home! The Cedars strives to create a home like atmosphere with cozy and private living spaces and staff who truly care like family.
Not sure how to help move your parent into a retirement community where they can thrive? The Cedars can help. Call 207.221.7000 to speak to a senior living specialist today.