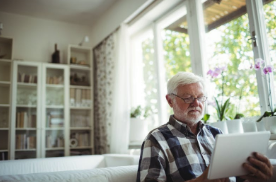 Integrating technology into the lives of seniors is a top trend in senior living communities. Why? From social media to helpful gadgets, recent advances in technology can help them stay active, stay safe, and stay in touch with loved ones. Here are seniors and technology tips that can help an older adult in your life take advantage of today's tech.
Tech literacy for seniors has never been a more important priority as shutdowns, lockdowns, and social distancing protocols continue to keep us all us spending more time in our homes. From grandparents on Facebook to helpful gadgets for the elderly, today's technological advances can help older adults stay connected with family and friends, strengthen fitness and cognition, access information and services, and age in place safely for longer periods of time.
If there is a loved one in your life who has resisted using computers or mobile devices, using email or apps or participating on social networks, they are almost certainly more open to it now that COVID has moved so much of our daily lives into the digital world. Helping seniors with technology is something The Cedars staff do every day, and we have great tips on how to help older adults take advantage of the opportunities in mobile devices, wearable tech, internet-connected appliances, virtual meeting services, social media, and more present for seniors.
Start with the Smartphone (or Tablet) – Of all the helpful gadgets for the elderly, smartphones and tablets take the top spot. Smartphones for seniors just make so much sense. If you are giving an older adult in your life a new device, give them the best head start possible on how to make the most of it.
Import their favorite contacts so that all of their beloved friends and family members as well as their physician are close to hand. Create or connect their email account. If they are unfamiliar with texting, give them a quick tutorial … and don't forget to add Grandpa or Grandma to the family group chat!
Show them how to set alarms and reminders for taking or renewing their prescriptions and setting or attending medical appointments. (Explore the many different apps available for tracking prescriptions.)
Help them set font size and brightness settings that work for their vision.
Configure "Find My Phone" settings and show them what to do if they think they have lost their device or had it stolen. Buy an extra charging cord in case their current one gets lost.
Pull up the Health settings and explain the data the device is collecting. Set a steps goal and encourage them to keep moving, or show them how to track their weight or blood pressure. If they are also using a wearable tech device like a FitBit or Apple Watch, help them install the app and connect both devices.
Think about their favorite hobbies and install a couple of carefully chosen apps on their device. Recipe collections, Soduku puzzles, books, fly-tying guides, music streaming services … whatever you think will light up their eyes and enliven their days.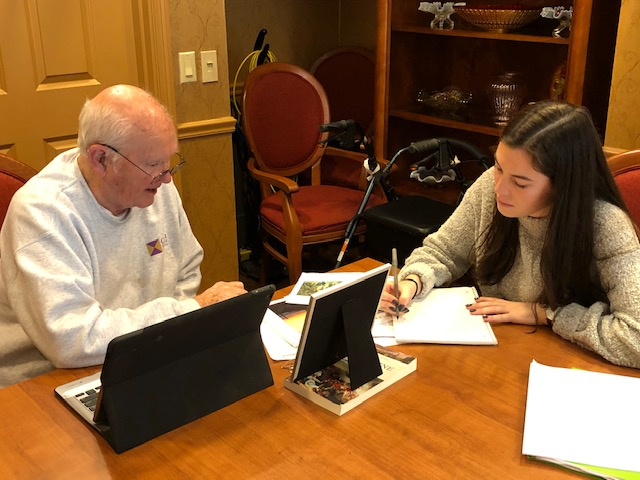 Social Media: Staying in Touch with Extended Family – The number of grandparents on Facebook increases daily, driven by the social distancing measures in place across the country that keep families from spending time together in person. If you are a family that shares more photos and videos on Instagram, however, your loved ones might miss the latest updates.
Take a look at the social media channels you and your extended family use most frequently to share jokes, thoughts, and quick snaps of your life. Are your grandparents also active users? Consider setting an appointment to set them up with their own account and show them how to follow your feeds and streams. Encourage them to ask their friends if they are active on senior social networks and join in.
Remember that older adults are less familiar with these platforms and are therefore more susceptible to online hacks and scams. When you give them the rules of the road, share a few precautions about not clicking strange links, sharing sensitive information, sending money to anyone they don't know, or installing suspicious software. Let them know if they are confused or concerned, to close out of the app and confer with someone else before taking action.
Zoom, Facetime, and Google Meet – COVID-19 has raised all of our comfort levels with digital meeting services and this includes seniors. If you haven't already, install your preferred video conferencing app on your loved one's devices and show them how to click meeting links, mute and unmute their audio, turn their video feed off and on, and see the chat feature. You may also want to show them how to change gallery views during larger gatherings so they can see all of their favorite faces.
Wearable Tech (Apple Watch, Fitbit) – Senior living technology like smartwatches and fitness trackers can provide older adults with an extra layer of personal security, especially if they are living with chronic health conditions. They provide up-to-the-moment indicators of blood pressure and heart rate and some can even run an EKG. Because they make it easy to access the weather, the date and time, and provide alerts, they can help older adults with memory loss, too.
Alexa and Google Home – Alexa might not be the first thing you think of when you think of aging in place technology, but digital assistants like Alexa or Echo can be game-changers for your grandparents—particularly for older adults who are experiencing forms of memory loss. Because they are activated by voice rather than touch, they are easier to use for older adults with vision and mobility issues, too.
These devices can assist older adults with: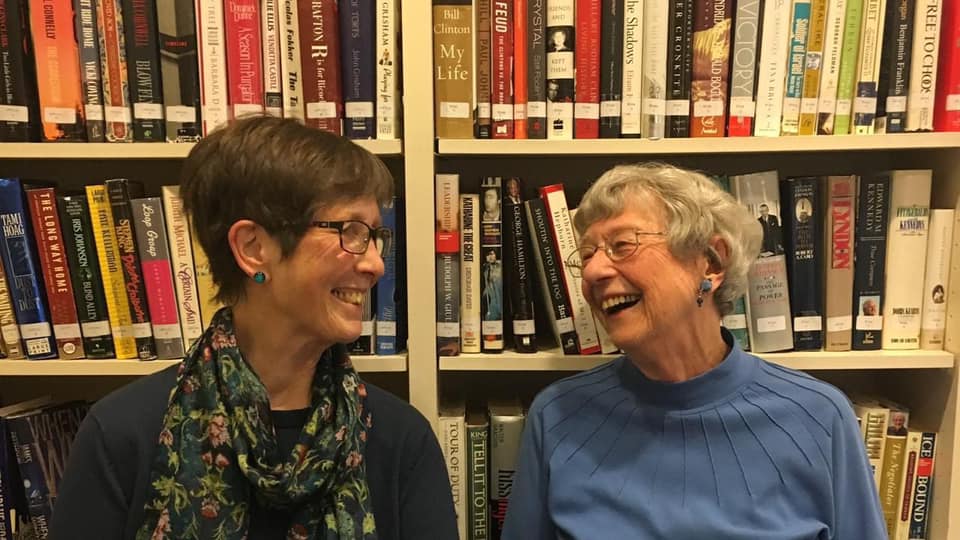 Checking the weather to verifying the date and time
Managing their calendar of appointments
Keeping hard-to-remember lists, like birthdays, grocery lists, packing lists, and more
Reminders to take medications or renew prescriptions
Playing music or audiobooks
Keeping up with the latest news and events
Alerting others when you need help
Shopping online
Helping seniors with technology is a great way to show them that you care about their wellbeing and want to keep them as close as possible during these challenging times. To see the many ways The Cedars uses cutting-edge technology to enhance the lives of our residents, talk to our senior living specialists at 207.221.7000 today.