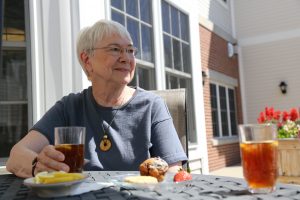 As I get to know the many, wonderful members at The Atrium at The Cedars in my role as Marketing Representative, I frequently find myself surprised by what I hear.  Members often explain their reasons for choosing our retirement community: proximity to downtown Portland, sense of security from our continuum of care, or relief from the burden of home ownership.  Once they arrive, although they may have expected the warm welcome from our community, they are often amazed to find themselves developing new friendships. Real, true friendships with peers who share their stories, provide fellowship and offer support.  It seems that this facet of their lives, this idea of relishing the company of friends, was a book already read and returned to the shelf.
Once our members at have an opportunity to live without the worries and difficulties that come with aging, the possibilities of living a fuller life resurface. I often hear of the interests that seniors used to be involved with, and at The Cedars they find rekindled pursuits – whether it's painting, playing bridge, strength training, or enjoying a glass of wine at the end of the day with friends.
I think that the older we get and the more we evolve, the less we expect from life. This perspective, to a great extent, brings us more peace – letting go of the stresses of our youth.  And in looking at our members, I'm sure they would agree, with an exception: we should never give up on the comforts of friendship – no matter how old we get.
For more information on The Cedars community, contact June O'Neill, Marketing Representative at 207-221-7100.