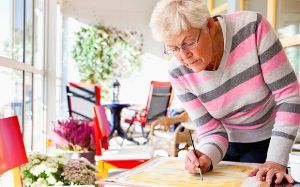 When Nancy Meyer arrives at the Osher Inn at The Cedars Retirement Community, she unpacks watercolor paints, brushes and paper. Eager hands await the materials, ready to get to work adding color and personal flair to the watercolor paper. Teaching and facilitating watercolor painting with seniors has had a great effect on Meyer, a New York native who now calls Baldwin home. "It's so rewarding," said Meyer. And the Osher residents love it, her many loyal attendants wouldn't miss her class.
Nancy focuses on nature in her watercolor sessions, bringing pieces of the natural world inside especially for those who are unable to go out-of-doors. It may be apple blossoms, flowers or pumpkins. These special still-life subjects are sure to bring smiles, said Meyer. "I learn from them," she said, of her students. Some smile, paint and have a great time. Others are slowed down by the details. Others come simply to watch her paint.
"It's like a therapy to watch someone paint. It's very calming," she said. The sessions offer an opportunity for Meyer to make personal connections. She's met fellow wild-bird admirers in her classes. Others love plants. There are always stories to go around. I've made so many people happy with painting," she said. 
Meyer is a self-taught artist who got her start in craft shows when she was 18 years old. Her paintings have hung in some of New York's prestigious galleries – she later began teaching watercolors and her business spread by word-of-mouth. Meyer said it is a privilege for her to be able to get to know the seniors she works with. "They give me so much more than I give them. They have such a soul," she said. 
For more information on life enrichment at The Cedars, contact mweber@thecedarsportland.org