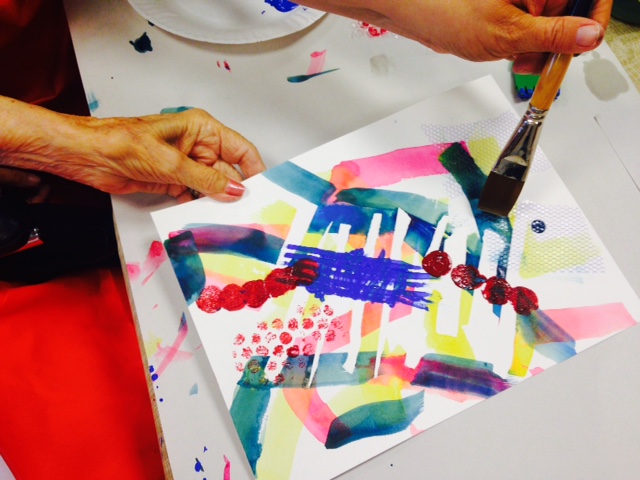 What can an art therapy program for seniors with dementia teach all of us?
All the participants in this Opening Minds through Art (OMA) class sing "You Are My Sunshine" as sunlight pours across worktables and paint is poured into palettes. Before the studio work begins, Pamela Moulton, artist in residence, sparks curiosity and delight with a performance art piece.
"I want to wake us all up," Pamela explains, showing off her vibrant hat and whimsical apron. "Intergenerational play infuses all my art. We all crave that joy."
It's true. Smiles are everywhere as the artists, who are residents of The Cedars with dementia, confer with their personal facilitators, undergraduate students from the University of New England (UNE). While the seniors learn today's art technique, the students learn about therapeutic work with seniors. And as the works progress, students express sincere admiration and help each artist choose a title for their painting. Abstract art has become a language they can share—and a lifeline.
"We teach abstract art because it doesn't try to replicate objects in recognizable ways," adds Nick Viti, Director of Life Enrichment. "It expresses them in fundamental ways, like colors and shapes. There's no frustration or failure here."
Family members and loved ones are welcome to observe or participate in the class. "They've seen their loved one struggle so much," Nick says. "Families are moved to tears as they watch their loved one succeed."
When Angela Hunt, Chief Operating Officer, first heard about an intergenerational art program from Scripps Gerontology Center in Ohio, she knew it was a perfect fit for The Cedars. The Cedars Auxiliary agreed, and raised funds to develop Maine's first OMA program. "The Auxiliary made it possible," Angela says. "Staff need certification, and we needed a working artist to teach, and artist grade supplies for all the projects."
Angela tapped Nick to direct OMA, and he saw its potential immediately. "OMA gives residents with dementia a means of self-expression, lots of choices and a fun change in routine," he says. "These are core elements of all of our programs."
In other OMA programs, volunteers assist the residents. The Cedars decided to take it further. "We made it a college course," Angela says. "We wanted to inspire the next generation to work in the field of gerontology."
Partnering with Elders: Health and Creativity, piloted by graduate students at the University of Southern Maine under the stewardship of faculty member Tammy Bickmore, was a smash hit with everyone involved. Angie turned to long-time collaborator Joe Wolfberg, MS-OMOC, a faculty member at UNE Westbrook College of Health Professions, for help creating a credit course.
Joe has worked with seniors, students and The Cedars for over 30 years, and he is a passionate believer in nurturing creativity and connections. "Everybody is a teacher," Joe declares. "We all have so much to give each other at every stage of our lives. As students listen to these elder teachers, they learn how to honor aging in all its forms."
"We're really breaking down barriers here," Nick agrees. "We're introducing young students to seniors with dementia and showing them how much they have to offer, and how we can best support them."
So what can we all learn from OMA?
Live in the Moment … Dementia patients, with so much of their experience lost to them, encounter everything as new and must live fully in the moment. As great artists have shown us, the ability to see the world differently can offer deep insight. The art created in OMA reveals that seniors with memory loss retain a valuable, and powerful, perspective on our world.
… and Make the Most of the Moment "I've taught many art classes," Pamela says as she gathers up the supplies. "This is special. I always leave this class feeling so alive." And as everyone sings the closing song, "This Little Light of Mine," everyone can feel it—the lightness and brightness of all of us, all together, shining.
For more information on OMA and other innovative programs at The Cedars, contact Nick Viti at 207-221-7000.