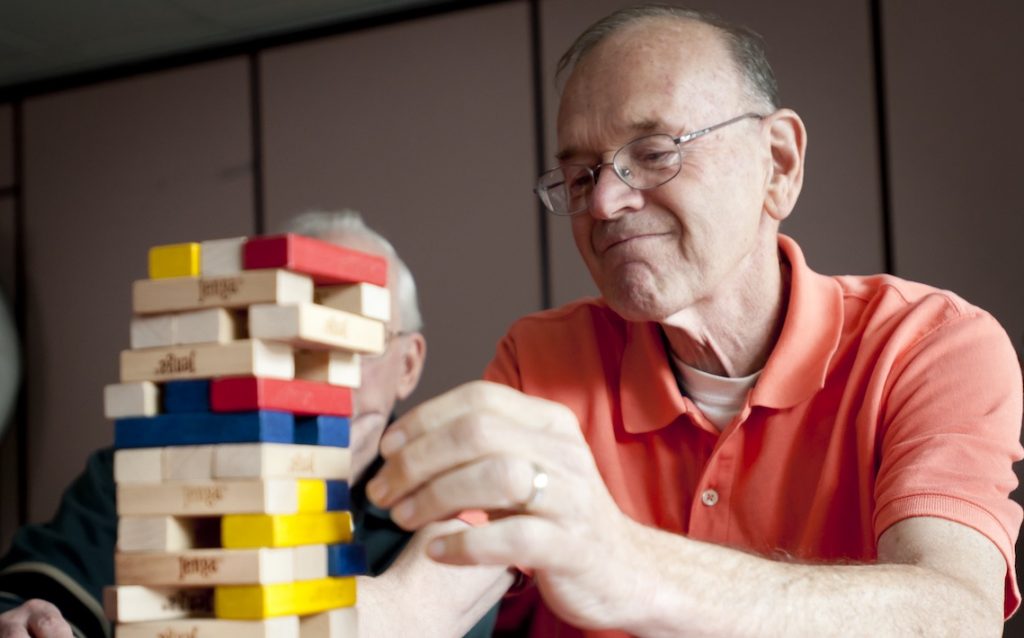 For seniors in the early stages of memory loss still living at home, Mindful Connections provides powerful, personalized therapy to preserve independence, cognitive function, and hope.
BY THE AGE OF 60, between 5 and 7 percent of people will suffer from some form of memory loss. By the age of 85, 50 percent will show symptoms of cognitive impairment, usually diagnosed as Alzheimer's Disease. Whether it affects us or someone we love, dementia will touch all our lives—but The Cedars believes it should not define our lives.
It's a bold view, and it is true: people with memory loss have the ability to lead rich lives and make valuable contributions to their community.
Our newest community-based program, Mindful Connections, proves this every day. Using forward-thinking therapies rooted in research and best practices and customized for each patient's unique life experiences and personal preferences, we support seniors with memory loss as they learn to live in the moment with strength, purpose, and joy.
"Because dementia can accelerate physical and mental decline, The Cedars holistic approach to treatment spans the six dimensions of wellness: physical, intellectual, occupational, social, spiritual, and emotional. Designed for seniors in the early stages of memory loss still living independently, Mindful Connections provides resources and respite for caregivers while enhancing health and offering hope to clients.
A PHILOSOPHY OF POSITIVITY
 Mindful Connections, as well as our upcoming Memory Care Assisted Living, are both built on a powerful philosophy—the Positive Approach to Care (PAC), developed by internationally recognized occupational therapist, Teepa Snow.
PAC prioritizes smart, compassionate responses to the realities of memory loss. Staff learn personalized strategies to form trusting relationships with clients—ways of responding to difficult situations that are supportive and successful. PAC recognizes that a person with dementia is doing the best that they can and if something isn't working, the caregiver must change their approach. PAC also teaches heightened environmental awareness, encourages flexible and creative thinking, and supports authentic personal connections between clients and providers.
 MINDFUL OF POTENTIAL
Each client receives a thorough evaluation from an experienced, PAC-certified Occupational Therapist. Assessments include in-depth interviews with family members and caregivers, standard evaluation tools, and skilled personal observations to determine the level of assistance each client will need to live productively in their community.
Some seniors in the program may benefit from a course of specialized rehabilitation therapy to address underlying issues such as balance or strength, speech and cognition, and the activities of daily living. The coping strategies learned in these sessions can do so much toward helping seniors with dementia and their caregivers feel safe in their chosen living situation.
CONNECTIONS WITH COMMUNITY
The heart of the Mindful Connections community-based program is the Wellness Group, a gathering of a small group of seniors and their PAC-certified practitioner, with expertise in therapeutic recreation. While every member of the group has a customized treatment plan, seniors join together to share a specialized exercise program in the rehabilitation gym, engaging activities to preserve cognition and spark purpose and pleasure, and social interactions—meals, discussions, and more—that forge real friendships.
"The Wellness Group is wonderful," says one member of Mindful Connections. "A diagnosis of memory loss can be so isolating. My friends in the Wellness Group understand exactly how I feel and we are working through this challenge together."
To learn how The Cedars can help you or someone you love make Mindful Connections during memory loss, contact the Program Coordinator at 207-221-7163 or email mindfulconnections@thecedarsportland.org.