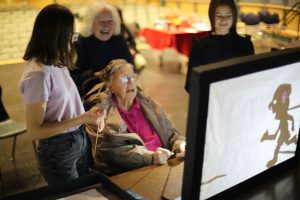 On December 7, 2020, Falmouth High School (FHS) students, residents of The Cedars, and local artists gathered for An Intergenerational Celebration of Puppetry, Storytelling, and Music—the culmination of a four-month long project in collaboration between FHS, The Cedars, and Figures of Speech Theatre.
 
Ian Bannon, Director of Education at Figures of Speech Theatre, designed and directed the project and performance around a series of creative storytelling sessions with residents living with dementia at The Cedars. Using TimeSlips, a collaborative ritual storytelling format designed for adults with cognitive challenges, residents draw on subconscious or implicit memories to tell stories. When it becomes challenging to recollect, residents are encouraged to move seamlessly from their memory to their imagination.
 
FHS students in teacher, Dede Waite's, theater classes traveled to The Cedars to guide this storytelling and rehearsal process—and to get to know these warm, wonderful, creative older adults.
 
Bannon and Devon Kelley-Yurdin, a visual artist and community organizer, helped students and residents as they transformed their TimeSlips stories into shadow puppet plays. FHS students in music teacher Jake Sturtevant's composition class created original scores for each performance. In hands-on shadow puppetry workshops, students and residents worked side-by-side to polish each short vignette and prepare for the student performances of the finished pieces.
 
The authentic personal connections and new skills formed over the previous four months were evident during the vibrant student performances, applauded by an engaged, appreciative audience of residents, their families, and members of the community.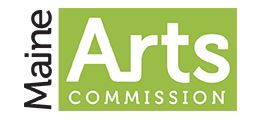 This program was funded in part by a grant from the Maine Arts Commission, an independent state agency supported by the National Endowment for the Arts.