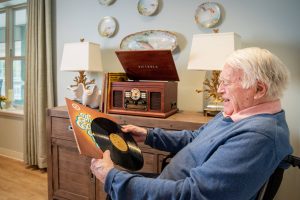 At the Lunder Memory Care Assisted Living Household, we believe that people with an Alzheimer's and/or a dementia diagnosis, can continue to engage in meaningful activities and participate in their overall health and wellness when receiving support from healthcare partners trained in their specific needs. For each person, the dementia journey will be different, and the needs will change along the way with time. At the Lunder Memory Care Household, we believe that through careful and thoughtful evaluation and intervention, we can anticipate and prepare for predicted changes in cognitive function. Our interdisciplinary team approach provides opportunities for successful socialization, choice, personal care, and self-direction, all within the environment of home. Care is organized around resident choices and preferences for the day. Our program identifies strengths and allows for resident positive interactions enhancing resident self-worth and life satisfaction.
 Commitment: The Lunder Memory Care Program Offers residents a daily person-centered program designed as a general structured daily resident routine. It identifies the flow of the resident's day and incorporates such elements as daily pleasures, meaningful activities, clinical care, and personal and social pursuits. Resident dynamics and interests at the time will influence the content of the program. This will include reasonable flexibility to account for the need for spontaneity and variety.
 Resident Program Philosophy: Each resident of the Lunder Memory Care Household comes to our community with their own history, preferences, interest, and skills. Throughout the life span and despite disability, all individuals have the potential for personal growth. The goal of the Lunder Memory Care Program is to assist our residents to continue to experience personal growth and to maintain those activities that give them pleasure now and in the past. Enhancing the lives of residents is integral to the mission of our community.
The Lunder Memory Support Program: Specialized Programs
 1. Opening Minds through Art: Opening Minds through Art (OMA) is an award-winning, evidence-based, intergenerational art-making program for people with Alzheimer's disease and other forms of neurocognitive disorders. Its failure-free program provides opportunities for creative self-expression and social engagement for people with dementia. The Cedars has multiple employees certified in this program and a professional artist who participates in the art sessions of the Lunder Memory Care Household. Professional art supplies and materials are utilized in this program. Residents (artists) are paired with volunteers (family members, students, and/or caregivers) who are trained to rely on imagination instead of memory and focus on remaining strengths instead of lost skills. OMA enables our residents to assume new roles as artists and teachers and leave a legacy of beautiful artwork. The program has been offered six times to all residents of the household. Selected artwork is framed and will be displayed in the household.
 2. Memory Lane TV: Affectionately dubbed the "Netflix" of dementia care, Memory Lane TV is a simple to use ultra-specialized video-on-demand streaming service providing meaningful engagement to people living with dementia residing in the Lunder Memory Care Household. This program leverages the science behind multisensory stimulation as a means of enhancing meaningful engagement to moderate common behavioral and psychological symptoms associated with Alzheimer's disease & other forms of dementia. Memory Lane TV is truly designed for people living with dementia throughout all stages; films do not have complex plots, reflect local culture, person-centered, and designed to produce positive effects on mood, behaviors, engagement, socialization, reminiscing, relaxation, and temporal referencing. Methods such as guided imagery, chronobiology, temporal referencing, and multisensory interventions are captured in films, pictures, music, sounds, and smell all incorporated into a diverse, five hundred plus portfolio of sessions. Content can be customized to the person's likes/preferences, stage of dementia, and/or desired results. This program is projected from a 60" television and can be used 24/7 for all the residents. All residents participate in this unique program.
3. Music and Memory: Our Music and Memory program is geared to providing very personalized music through digital music technology. An extensive life music assessment is performed with our residents to tap into the benefits of this modality. The Cedars is a certified organization in the Music and Memory Program. Residents are provided with their own digital music device containing their individualized playlists. There is ample research, including objective brain imaging, that demonstrates personal meaningful music is an alternative route for communicating with individuals with dementia. Studies have exhibited improvement of attention, mood, and elicitation of memory. This evidence-based program is easily administered and utilized by all staff 24/7. The staff is currently working to provide this program to all residents residing in the household.
4. Timeslips: Timeslips is an evidence-based, award-winning storytelling program that sparks the imagination. A trained facilitator guides the residents in the development of a story as they view a picture. Timeslips brings residents together, connects emotions, builds relationships with others, and infuses creativity. This program has been offered since the fall of 2022 for all residents
5. Portland Wheelers: During the warner months, the Portland Wheelers, in collaboration with The Cedars, offer an adaptive biking program for the residents of the Lunder Memory Care Household. This unique program allows the residents to experience the feeling of a bike ride in a three wheeled trishaw as a volunteer pedals the electric bike through The Cedars neighborhood. This person-centered, evidence-based activity promotes an opportunity for resident engagement as residents participate in natural social interactions, enjoy the outdoors, and have a pleasurable, happy experience. Residents connect with nature, feel the wind in their hair, visit the neighborhood, wave at neighbors, see the comings and goings of the neighborhood along with experiencing various scents, sounds, and sights. This program brings back nostalgic memories of their youth and bike riding stories.
 6. Education: High quality training drives the transformation of quality care and quality programing. Dementia care training leads to improved communication, engagement, a reduction in dementia related behaviors and improved quality of life between staff and residents. In order to provide these specialized programs specifically designed for residents with dementia, the staff needs foundational training and skills development.
 7.Teepa Snow "Positive Approach" to Dementia Care (PAC): "Positive Approach to Dementia Care" is a unique program that explains the brain's physical changes with dementia and why performing tasks, thinking, reasoning, and processing become difficult for someone with dementia. The Cedars Life Enrichment Manager is a certified trainer of "Positive Approach to Care." "Positive Approach to Care" teaches us to celebrate individuality and uniqueness of each person and is considered a cornerstone to our educational program. All employees of the Lunder Memory Care Household are mandated to participate in this educational program.8
8. Future Art Programing: As part of a diversity, equity, accessibility, and inclusion program, The Cedars will partner with Portland Museum of Art to provide the first museum-based transformational art program for people living with mild to moderate dementia and their care partners. The program, "The Cedars Art
Encounters at the Portland Museum of Art for People Living with Dementia", will positively engage a population with unique needs in a non-stigmatizing setting, allowing them to connect with the greater community. Residents of the Lunder Memory Care Household and their family members will be invited to participate in this program for the near future, fall 2023. Together, The Cedars and Portland Museum of Art will develop, implement, and evaluate the benefits of adopting it into a consistent, self-sustaining program focused on diversity, equity, accessibility, and inclusion for this rapidly growing population. This first program will serve as a blueprint for additional community-based programs offered to people living with dementia in the greater Portland area.
Artwork adorning the Lunder Memory Care Household donated by the Lunder Foundation, Peter and Paula Lunder, brings beauty, joy, engagement, and way-finding for the residents, staff, and visitors of the Lunder Memory Care Household. The pieces elicit memories and conversation and contribute to the feeling of home in the household.Several unique, evidence-based programs are offered to residents of the Lunder Memory Care Household through the Lunder Memory Support Program that are not offered at other memory care assisted living communities in the greater Portland area. We are profoundly grateful to The Lunder Foundation, Peter and Paula Lunder Family for their support. We are excited and honored to be offering a new level of service, memory care, with these innovative evidence-based programs.
For more inflammation on The Lunder Memory Care Household or The Cedars, contact June O'Neill at 207-2217192 or j'oneill@thecedarsportland.org