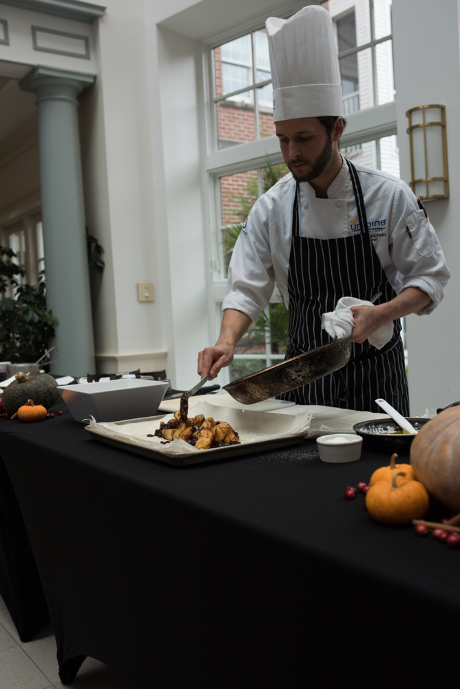 Portland, Maine is nationally renowned for its restaurants, bakeries, and breweries. Chefs at The Cedars take full advantage of the region's seasonal ingredients and fun foodie culture. When you read about our diverse and delicious dining options, you'll want to reserve your table today!
When you hear the phrase "retirement home food," do you imagine unappealing cafeteria-style cooking? Think again! The Cedars campus is located in the heart of Portland, Maine, voted "Restaurant City of the Year" by Bon Appetit and topping national lists of foodie destinations everywhere. Our residents have come to expect a very high standard in fine dining, and we always deliver.
The Cedars offers a wide range of dining options across our community, from casual, European-style café cuisine to traditional New England lobster bakes to picnic-style barbecues to formal, multi course meals. Every meal offers so many choices—healthy indulgences, exciting new cuisines, comfort-food favorites—and our menus change with the seasons, to better feature the farm-fresh ingredients so abundant in Maine.
At The Cedars, many meal ideas come from our residents themselves! Often requesting specific dishes and also rating recent menu additions during Resident Dining Committee meetings, where our chefs sit down with residents to plan weekly menus and take their suggestions.
Chef Jarad and his talented team receive rave reviews from our entire community—and even a few lighthearted marriage proposals! So what makes the dining options at The Cedars so distinctive—and so delicious?
Fresh, Seasonal Ingredients
Fresh seafood, drawn from waters a few minutes from our campus. Local meats from area farms.  Fresh-picked fruit and vegetables, including wild Maine blueberries and hearty Maine potatoes. The growing season in New England may be short but it overflows with good ingredients, and our culinary team takes every advantage of nature's abundance. From farmer's markets to the working waterfront, our dining staff searches out and buys the best for our residents.
COOK CHEF JARAD'S PUMPKIN WHITE CHOCOLATE TRUFFLES!
INGREDIENTS
2 oz. full-fat cream cheese softened to room temperature

2 tbsp. powdered sugar

1/3 c. pumpkin puree

1 3/4 c. graham cracker crumbs

1/2 tsp. pumpkin pie spice(1/8 tsp ginger,1/8 tsp nutmeg,1/8 tsp clove,1/8 tsp sugar)

1/2 tsp. ground cinnamon

4 oz. white chocolate, coarsely chopped

1 lb of dark or white chocolate for dipping
In a large bowl using a hand mixer or in the bowl of a stand mixer using the whisk attachment, beat cream cheese and sugar together until creamy, about 2 minutes. Add pumpkin and beat on high until combined. Add graham cracker crumbs, pumpkin pie spice, cinnamon, and melted chocolate, and beat on medium speed until everything is combined, about 2 minutes. Cover tightly and refrigerate for 1 hour or up to 24 hours. Chilling is mandatory.

Line two large baking sheets with parchment paper or silicone baking mats and set aside.

Begin rolling chilled mixture into balls (about 1 teaspoon per ball) and place balls on baking sheets. Chill in the refrigerator for 30 minutes or up to 24 hours.

Begin melting chocolate when balls are just about finished chilling, using a double boiler or the microwave. If using the microwave: Place chocolate in a medium heat-proof bowl and melt in 30-second increments, stirring after each increment until completely melted and smooth. Let warm chocolate sit for 5 minutes to slightly cool before dipping.

Remove balls from refrigerator and dip them in chocolate. Place balls back onto baking sheet after you dip each one, then top dipped truffles with a sprinkle of graham cracker crumbs, cinnamon, or sugar (if desired). Allow chocolate to completely set in the refrigerator.
New Tastes, Old-Time Favorites
Our chefs draw on traditional New England culinary traditions to create some of our residents' favorite dishes. Fluffy pancakes in maple syrup or bright blueberry muffins. Buttery baked haddock and creamy clam chowder. Steamed corn served alongside a fresh-picked lobster roll. Molasses-dark baked beans and Yankee pot roasts on cold, crisp days. Cider donuts, blueberry pie, apple crumble, and whoopie pies. If you have come to love the authentic, nostalgic tastes of New England cuisine, you will find those flavors at The Cedars.
COOK CHEF JARAD'S APPLE STRUDEL
For the phyllo:
12 sheets phyllo, thawed and at room temperature

8 tablespoons unsalted butter, melted

6-7 teaspoons granulated sugar

Apple filling:

5 apples (combination gala and granny smith) peeled, cored, and cubed

4 tablespoons unsalted butter

½ cup light brown sugar

¼ cup granulated sugar

3 heaping teaspoons corn starch

1 heaping teaspoon ground cinnamon

¼ teaspoon salt

1 teaspoon orange zest

½ cup dried cranberries

1/3 cup chopped pecans or walnuts

Instructions
Preheat oven to 375 degrees Fahrenheit (191 degrees Celsius)

Begin by making the apple filling. In a large, shallow saucepan melt butter and add apples. Add the brown sugar, white sugar, cornstarch, salt, and cinnamon. Mix well and cook over high heat for a few minutes while constantly stirring to break up the sugar and combine all of the ingredients. Once the apples release some juices and the sauce begins to thicken it is ready. Do not overcook or the apples will break down and become mushy. Keep in mind that they will continue to cook in the oven.

Remove from heat and add orange zest, cranberries, and pecans. Mix well and set aside.

Line a sheet pan with some parchment paper.

Place 1 phyllo sheet on the parchment paper and drizzle some melted butter over it.

Sprinkle about 1 teaspoon or less of the granulated sugar. Repeat this process with the remaining 11 sheets of phyllo.

Arrange the apple filling in the center of the prepared filling (the long way) Brush the edges of phyllo with melted butter to create a seal.

Roll the phyllo over the filling carefully into a log. Keep the seam side down.

Brush with butter all around and bake for 30-35 minutes on the middle rack or until golden and crispy.
You will also find new favorites drawn from all over the globe! In independent and assisted living Households regular "theme meals" offer a decadent tasting tour of the highlights of world cuisines. Our residents have celebrated Chinese New Year with a wide assortment of spicy-sweet dishes and St. Patrick's Day with corned beef and soda bread, enjoyed a romantic and decadent French dinner, cozied up to the table for a rollicking Oktoberfest spread, and much more. Even residents who never thought of themselves as having an adventurous palate have discovered they love Indian food, Middle Eastern cuisine, or Sichuan spice.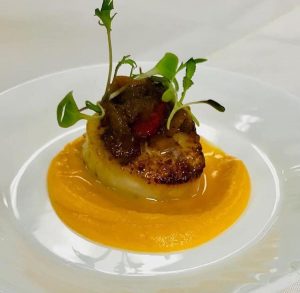 Healthy Indulgences
Senior meal plans and assisted living menus can do more than spark your palate with tempting new tastes: it can significantly improve the nutritional content of your daily meals and your overall personal health. Our talented chefs excel at imparting rich and decadent flavors into healthy, nutritionally dense, and even plant-based dishes. If you think "healthy food" means "bland food," step into our independent or assisted living-dining rooms and get ready to be blown away.
Crisp and crunchy tossed salads. Wraps that are packed with flavor. Colorful and spiced stir-fries and curries. Savory sandwiches, warming soups, yummy green and grain bowls, grilled meats, and vegetables—the list goes on and on.
Cook Chef Jarad's White Bean Salad
½ Cup Dried white beans

1 bunch curly leaf parsley

1-pint Local Grape tomatoes

3 cloves garlic

3 Tbsp. olive oil

2 Tbsp. lemon juice

¼ Cup Kalamata Olives Chopped

1 OZ fresh Basil rough Chopped

¼ Cup Feta Cheese

1/8 Cup Dijon Mustard

1/8 Cup Red Wine Vinegar

Pinch of Sugar

Salt and Pepper to Taste
1. Cook White Beans in Vegetable Broth with 1 Clove of Chopped Garlic and 1 Tablespoon of Olive Oil. Slow Simmer and Add water until Beans are fully cooked. Strain and Cool.
2. Combine all Other Ingredients into a large mixing bowl and add White Beans. Toss together and add a pinch of Red Pepper Flake(Optional)
3.Serve as a Side dish or with your Favorite Type of Pan Seared or Grilled Fish on top.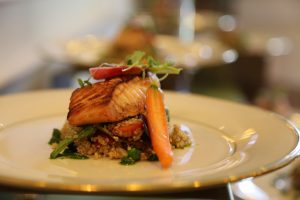 Cooking Classes and Interactive Cooking Demonstrations
Senior independent living with meals set you free from daily cooking, but so many of our residents are passionate home cooks and enjoy the chance to learn new skills or prepare their own dishes now and again, whether in their own kitchenette or in one of our community kitchens. And Chef Jarad's cooking demonstrations are popular ways to pick up new tips, techniques, and recipes.
Senior cooking has never been so fun and flavorful! There's a reason tours of our community always feature the opportunity to try a meal in one of our many dining rooms. Once you've had a taste of our chefs' cooking, you can't wait to come back for more. Want to sample some of our five-star senior cooking options? 207.221.7000 today.