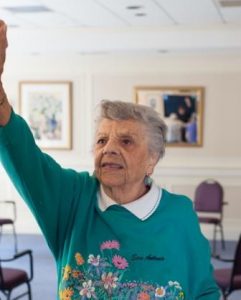 During the past decade, assisted living communities have offered exercise, social, creative and educational opportunities. In recent years, senior care has been trending toward broader and deeper approaches to wellness. You'll want to look for this higher standard as you visit assisted living communities for yourself or your loved one. The best assisted living communities have embraced a wellness philosophy that infuses the entire organization.  
What are the Six Dimensions of Wellness?
It is commonly accepted that six dimensions of wellness need to be present in order to age successfully. There are tangible signs that the community you're considering has a successful wellness philosophy when these six commonly known factors are holistically integrated into all quality programming for senior life. Seen together, these dimensions optimize and improve a person's state of health.  
Physical — Centers on exercising the body to promote strength and flexibility. Advocates healthy lifestyle habits, encourages personal safety and the use of healthcare support.
Social — Emphasizes creating and maintaining healthy relationships with others, one-on-one or in a group setting; for example, talking, sharing interests, and actively participating in social events.
Intellectual — Encourages individuals to expand their knowledge and skills, with stimulating mental activities.
Emotional — Involves the capacity to manage feelings and behaviors, recognize and express feelings in a healthy way, to problem-solve and manage success and failure.
Spiritual — Includes seeking meaning and purpose, demonstrating values through prayer or contemplation, and appreciating beauty in nature.
Occupational — Emphasizes the process of adding value to one's life through meaningful activities, learning new skills and developing new interests.  
What do I look for in a community?
Management and staff should address the community's commitment to its wellness-based mission. Look for staff titles such as Life Enrichment Coordinator or Wellness Associate. Architecture should reflect an environment that feels open yet comfortable. The community should strive to meet these higher standards of wellness excellence.
Physical — Personalized wellness plans and exercise programs for cardiovascular endurance, muscular strengthening and flexibility. A Fitness Center for classes and comfortable seating throughout the community are important.
Social — A choice of different levels of participation such as specially designed common areas, such as a Lounge or Community Center to accommodate small group interaction or larger activities and events.
Intellectual — Regular educational and cultural events and trips, as well as a Study for board games or computer use.
Emotional — One-on-one visits with professional staff and volunteers. Natural light, color, artwork and uplifting gathering places; Salon & Day Spas as a sanctuary for massage treatments and aromatherapy.
Spiritual — Access to clergy and lay leaders on a regular basis. Chapel on site for private and group worship.
Occupational — Credentialed and certified staff that set goals related to a wellness philosophy, as opposed to structured activities that just "fill time." State-of-the-art Recreation Room for enhanced programs.  
The wellness philosophy is a holistic idea for health and well-being that focuses on choices for residents. Assisted living communities that incorporate these six dimensions of wellness to achieve a higher standard quality of life are truly ahead of the curve.