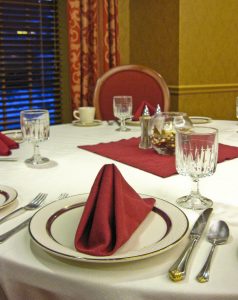 Sitting down for a delicious meal is something we all look forward to, both to nourish our bodies as well as to gather with friends and families.  At The Osher Inn Assisted Living, our residents look forward to joining in our dining room that is elegant yet intimate and feels just like home in our small community of 30 apartments.
For lunch or dinner, we often have family members join their loved ones to catch up on busy lives.  Breakfast time is an opportunity for our residents to plan their days and visit with friends over a lingering cup of coffee.  Our Dining Director, John Roy, prides himself on planning his menus around seasonality and variety. "Living in Maine gives us access to the best seafood, produce, and meats," he explains. "And we don't want even our most popular dishes to feel repetitive. In every way, we try to keep our menus fresh." 
During the warmer months, residents have the option of dining outside.  And special events throughout the year provide an added element of interest to our residents.  For more information about Assisted Living at The Cedars, call us today at 207-221-7100.