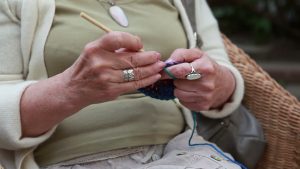 What do you do when you hear about someone in need?  At The Osher Inn, assisted living at The Cedars, a group of more than six residents dusted off their knitting needles and joined forces to help.  A few months ago, a few residents at The Osher Inn heard of a man receiving services from VNA Hospice – who just couldn't stay warm. They didn't miss a beat and gathered their friends at The Osher Inn to create a blanket as a donation to hospice.
"It took around three months, with more than six of us working on it", the group explained.  None of the knitters had picked up needles in years, but they jumped back in willingly.  "Fingers change over the years," one knitter explained, "the needles are slippery and they didn't used to be!" Another resident, who owned a yarn store in Portland for many years, says that using wooden needles makes it easier.  The result of their work is a beautiful blanket full of color that can be washed and dried at home.
Now that they've made their donation, the group looks forward to finding another project.  "It gets easier, the more you do it," said another resident.  In the meanwhile, these many hands have provided a hospice patient with a much needed warm embrace.