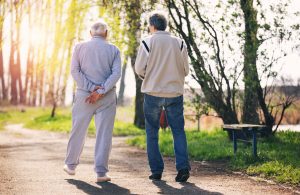 Moving elderly parents to an assisted living facility can be a scary step for everyone involved. Our five-step checklist is easy to follow, eases the transition to an assisted living community, and will put your whole family at ease.
The steps for transitioning someone into a nursing home or assisted living facility are not as difficult as they seem. In fact, the hardest part is simply getting started. No one wants to share with aging parents that they no longer seem to be thriving in their home and many adult children struggle to express their concerns about health and safety with their loved ones.
After all, our aging parents have always taken care of us. When we suggest a transition to assisted living, we start taking care of them.
At The Cedars, we offer a full range of award-winning living options for elderly parents. We see every day how emotionally charged these conversations can be. We also see the powerful and positive difference assisted living makes in the lives of our residents.
If your aging parents can no longer keep up with housekeeping tasks or need assistance with dressing, bathing, cooking, or driving, a helping hand changes everything. In fact, moving into a senior living community doesn't just improve the quality of life. It actually improves life expectancy.



Setting Expectations About Assisted Living With Your Parents
"Supporting aged parents means knowing when to suggest assisted living," says Angie Hunt, Administrator at The Cedars. "The signs someone needs help can be subtle or striking. If you don't live close by, you may notice a sudden decline in your parent's home, health or wellbeing on a holiday visit. If you can visit often, keep an eye out for memory lapses, emotional swings, changes in weight or grooming, and signs of disrepair in around your parent's home."
So, how do you tell a parent they need assisted living? "First, ask your aging parents what they want," suggests Angie. "Reassure them that you want what is best for them. Do they want to stay in their current community or move to be closer to family? Do you they want to have less stress in their lives? More opportunities to socialize? Healthy food and fitness choices? The ability to receive health care right where they live? That is what assisted living is—help when they need it that gives them the freedom to do what they want."
Now that everyone agrees that assisted living is the right move for your aging parents, how to choose an assisted living facility?
What Kind Of Assisted Living Can You Afford?
First, know what you can afford. Having a frank and open conversation about your parent's finances and setting a budget for assisted living care lets you better focus your search. The cost of assisted living programs varies widely across the country and sometimes even within the same community, depending on whether your parents opt for a private room or a full apartment and on the level of personal assistance they require.
Most older adults pay for assisted living care through some combination of Social Security, pensions, Veterans benefits, home equity, and personal savings. While Medicare will not cover assisted living, older adults in some states, like Maine, can use Medicaid to pay for all or part of their assisted living costs in MaineCare licensed communities. Ask your parents if they have purchased long term care insurance and, if they have, review their policy for applicable coverage.
Find Assisted Living That Meets Your Parent's Medical Needs
"One of the greatest benefits of assisted living is the peace of mind 24/7 healthcare can provide aging parents and their families," explains Katharine O'Neill, Director of Housing at The Cedars. "While every assisted living facility can provide basic care, some assisted living facilities, like The Cedars, can care for even medically complex conditions like kidney disease or COPD and provide physical and occupational therapy and memory care onsite."
Speak with your parents and their physician about the types of medical care they may need now or in the very near future. If memory lapses or a diagnosis of dementia are the reason you are considering assisted living for an aging parent, assisted living alone may not provide enough support. Look for memory care assisted living programs with positive, frustration-free approaches to care.
"Make sure you check the qualifications of any assisted living facility you visit," cautions Katharine. "Find your state's regulatory agency and contact your long term care ombudsman, typically part of your state's agency on aging. When you are researching how to choose an assisted living facility, the  Southern Maine Agency on Aging and Leading Age are also excellent resources."

See The Assisted Living Environment For Yourself
One of the most important steps for helping someone transition into a nursing home is to tour every residence you consider. Many communities for older adults offer virtual tours on their websites but there is no substitute for an in-person visit. (During the current pandemic, when resident safety concerns are paramount, many high quality assisted living programs will provide personal virtual tours through FaceTime or Zoom.)
You will know from the moment you walk in if an assisted living residence feels right for your aging parent. Look for private rooms or apartments with private baths, welcoming common areas, and homey furnishings. Review the monthly activity calendar and the dining menus for the day. Ask if there is an active resident's council and request visits with current residents or their families to get their impressions. Remember, an assisted living residence should always feel like a real home, not a hospital.
One of the greatest fears aging parents have is that giving up their private home will mean giving up their personal autonomy. As you visit and evaluate assisted living options for your elderly parents, ask questions about the choices they are offered during their daily lives. Will your parents be able to decide how to spend their days or will they be told when to wake up and when to eat? Can they opt-in or out of planned activities based on how they feel that day? Can they continue to pursue activities and passions that truly matter to them?
"The Cedars is the first senior living community in our state to offer The Household Model of Care," says Kathy Callnan, President and CEO at The Cedars. "This transformative approach to long term care creates a true home, where residents set their own schedules and make their own choices. With private rooms and baths, cozy common areas, and dedicated caregivers, our assisted living residents make themselves right at home."
Preparing For The Transition To Assisted Living
You have chosen an assisted living residence that your family can afford, that can provide the kind of medical care your aging parents need, and that feels like home. Now it is time to set a schedule for moving in and begin downsizing, packing up, and preparing for an exciting new chapter in your parents' lives.
"Keep lines of communication open and keep everyone's spirits up," advises Kathy. "There will be a lot of big emotions as you begin filling moving boxes. Your parents will have to choose their most precious possessions and mementos to take with them and many aging parents have a hard time letting go of the things they no longer need. Remind your aging parents of the freedom a more simplified life provides and reassure them that giving away items or selling a family home doesn't mean losing the many happy memories they contain."
Many communities have downsizing experts able to assist your family in sorting, selling, donating, and packing and the professional advice of someone outside the family can help resolve disagreements or provide clear-eyed advice. If there are family heirlooms or other valuables changing hands, make sure your parents' wishes are legally documented and that insurance policies are updated. Work with a realtor you trust and take their advice on home repairs or staging. Even freshening paint colors or decluttering rooms can help everyone start the process of "letting go."
"Moving elderly parents to an assisted living facility is an opportunity to draw a family closer," says Angie Hunt at The Cedars. "Adult children fly home from distant communities, reconnect with siblings, and spend quality time together helping with this exciting transition. Take plenty of pictures. Tell and re-tell favorite stories. And focus on the bright future ahead."
Looking for an award-winning assisted living or memory care assisted living community in Maine that truly feels like home? Talk to The Cedars today.