It's tough to let go of your past, but many older adults find freedom to pursue new passions in transitioning to a retirement community. Here's our guide to moving out of your home and into a retirement community.
Downsizing and Decluttering: Moving Out and Moving On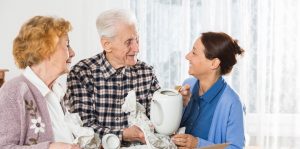 For most older adults, the decision to move to a retirement community means selling the family home and making tough decisions about which possessions they wish to keep and what should be sold, stored, or given away. Take a look at our moving tips for seniors and remember that letting go of the past will make room for the future!
Making the transition to a retirement community is a very big lifestyle change for most older adults. No matter how long you have lived within it, your family home is likely filled with precious memories, treasured objects and mementos, and a lot of clothing and furnishings.
Realizing you no longer need many (or most) of these possessions can be a very emotional process. The anxiety around downsizing and decluttering is very real. According to a recent study from Cornell University, clutter triggers the release of cortisol—a stress hormone—which can lead to increased tension, frustration, and unhealthy habits. If you feel your heart or breathing speeding up when you open your closets or pull out old storage boxes, this is a natural reaction to feeling responsible for a whole lot of stuff, particularly for women.
The best way to get back to feeling great about your future is to have less stuff from your past. Letting go of clutter will simplify your life, alleviate your stress, and let you move into this bright new chapter of your life without excess baggage.
Ask for—and Accept—Help With Downsizing and Decluttering
Not sure how to let go of material possessions? Unsure of where to start? Struggling to reach items in out-of-the-way places or to move bulky or heavy things? Ask for help.
Most older adults turn to their children and grandchildren for help packing to move. If your loved ones are also feeling emotional about your transitional planning and sentimental about letting go of the family home, however, it may be harder to make decisions you feel good about and move forward quickly.
Hiring a neutral third party, like a professional organizer, senior moving specialist, or estate liquidator, can make the process less fraught. They are not attached to your home or your belongings and they can have an easier time seeing what will be best for everyone involved. A good professional will spend time getting to know you and your goals for your move to assisted living and create a plan to get you there.