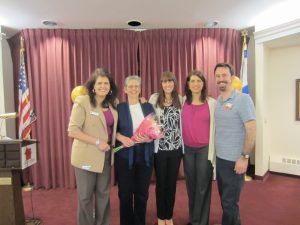 Looking back over the years, it's clear that The Cedars would not be the thriving community it is today had it not been for our volunteers raising nickels and uniting a strong passion for "change" to support our residents.
Today that spirit is fully ignited and contagious as ever, with a diverse variety of volunteers sharing their talents and giving back in unique ways that offer immeasurable returns. Our volunteers continue to be the cornerstone of the compassionate care that we strive for, offering creative approaches that enhance lifestyle choices and honor individuality.
It has been said that the heart of a volunteer is not measured in size, but instead by the depth of commitment to make a difference in the lives of others. In being of service to others, there's a sense of strong connection to those around us and in turn we can become inspired by the experience of giving back. Throughout our community there is a perpetual flow of giving, from our seamstress volunteer Meagan, mending items for our residents each week and creating community quilts for everyone to enjoy, to our spa volunteers Katie and Carol, offering gentle hand massages, conversation and companionship as our residents relax and enjoy the ambiance of the spa. Lending a hand with Bridge, there's volunteer David with his quick wit and humor. Our community is strengthened by the thread of diversity that is volunteerism.
As we continue to passionately forge ahead with exciting new projects on our campus and within our community we extend gratitude to the volunteers that have come before us, the ones that continue to walk beside us. Each and every single person has helped us build the legacy that we have become today, a true testament that our volunteers are truly the heart of who we are and deeply comprised of our past present and future.
With the summer upon us and more travel in the future for our residents, we have openings for Activity and Outing Assistants, Come and accompany our residents to lunch or for a scenic ride to a favorite ice cream spot!
If you have a talent you'd like to share with our residents or for more information on our volunteer program, please contact: Janine Fifield, Manager of Volunteer Services. jfifield@thecedarsportland.org 2017-221-7036 or visit our website at www.thecedarsportland.org