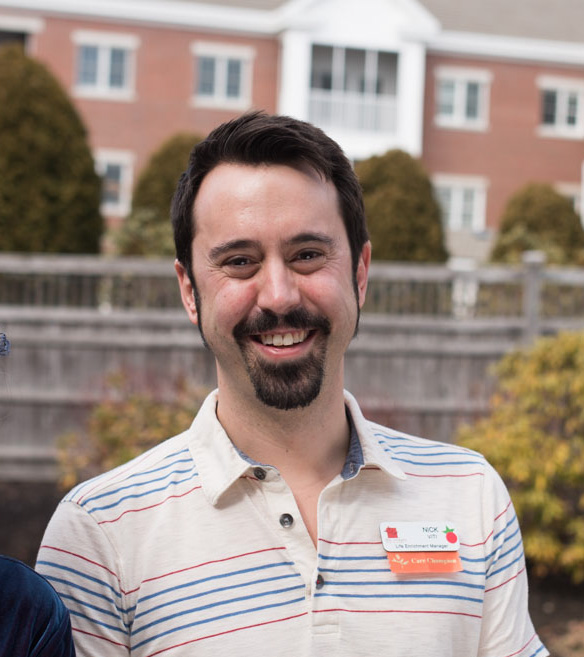 "To make The Skilled Care Center truly feel like home, we have to know what 'home' means to each person … we want to recreate their world as mush as possible."
– Nick Viti
THE CEDARS holistic approach to skilled care nurtures mental and spiritual well being, not just physical health. Embracing person-centered care and transforming nursing wings into close-knit, thriving "neighborhoods" is one way The Cedars achieves this level of holistic wellness. Our Life Enrichment programming is another.
Our Life Enrichment team engages residents in rich and meaningful activities while fostering a true sense of community. Nick Viti, an occupational therapist, is thrilled to have the opportunity to lead it. As our new Manager of Life Enrichment, Nick provides one-on-one occupational therapy to residents while creating and customizing programming to reinforce and enhance that therapy. "Because I'm in the therapy gym with residents, I know their strengths and challenges firsthand. I don't have to design one activity to fit all. I get to design an activity for one person."
Nick began working with students and adults with behavioral disabilities after graduating from college. "Finding ways to adapt environments and activities to allow my clients to experience success in their lives was so rewarding," he remembers. "I knew that feeling was what I wanted from my career."
Nick went back to school to earn his occupational therapy degree from the University of Southern Maine. For his senior project, Nick helped create a 'sensory room'—a space with visual, tactile and auditory tools to help overstimulated or under-stimulated residents with dementia restore their sensory balance. After graduation, Nick applied his ideas in a real-world setting while working with dementia patients at an Augusta nursing home.
Nick loved the work, but he wanted something more—to truly get to know residents, develop personalized therapeutic goals for them, and create meaningful, enjoyable daily activities that reinforced those goals. Our holistic approach to wellness was just what he was looking for, and he brought his passion for innovative, person-centered care and his in-depth knowledge of dementia treatment to The Cedars in 2013.
"I wanted to work here because The Cedars mission and vision is so broad and forward-thinking," he explains. "I hadn't heard of any other nursing home doing the kind of culture change The Cedars has embraced."
Nick works closely with nursing, dining, activities and housekeeping staff to keep everyone's focus on individualized care. Together, they customize each resident's daily routine to honor that resident's personal preferences, life history and customized care plan.
"The Life Stories are where we start," Nick says.  "To make The Skilled Care Center truly feel like home, we have to know what 'home' means to each resident. Were they a part of a large family, or an only child? Did they have a 9-5 job, work the night shift or stay at home? We don't want to force them into new habits or routines. We want to recreate their world as much as possible."
Angela Hunt, Chief Operating Officer, enthusiastically agrees.  "Person-centered care lets us put living at the forefront, while medical and nursing issues are quietly and competently addressed in the background," she says. "Just like home, our residents get to choose when they get up, when and where they want breakfast, what they want to eat … their days are filled with choices. After all, there's nothing typical about anyone's 'typical day.' It's as special as they are."
"It's challenging to offer so many choices," she continues. "But choices are the key to creating dignity and empowerment."
So is variety and surprise. "We don't want schedules to feel rigid," Nick explains. "If every week repeats the same schedule, even favorite activities start to feel stale. We let residents lead the way and we let ourselves be inspired by what's happening indoors, and out."
For Nick and his team, just like home isn't a slogan – it's a mission.  "Nick gets it," Angela says with a grin. "The Cedars is so lucky to have him."
For more information on Skilled Care at The Cedars, call 207-221-7000.