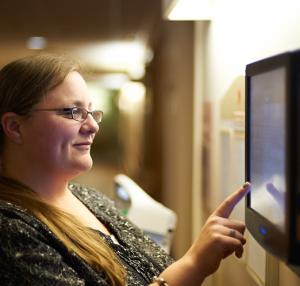 "We let families visit whenever they want. All they have to do is ring the doorbell, just like home." —HANNAH TEMPLE, RN, The Skilled Care Center at The Cedars
THE CEDARS is a bright and bustling place during the day, but the compassionate care and sense of community don't stop when the sun goes down. In fact, they don't even slow down. It gets quieter, but The Cedars still hums with activity after dark.
"Part of creating a homelike environment is letting residents and patients create their own schedules," explains Hannah Temple, RN, Evening Shift Supervisor. "We have early risers and we have night owls—and we take the very best care of both."
EVENING SHIFT
An admitted night owl herself, Hannah has always loved working evening shift. Hannah and her team begin working at 3PM, helping residents get ready for dinner, socialize in the evening and prepare for bed.
"It's one of the busiest nursing shifts," she says. "We give residents so much choice over when and where they eat their meals and snacks. There are movies and popcorn, card games and visits. Bathing and dressing, dispensing medications, just holding someone's hand for a bit. The time just flies."
Dining Services clean up the kitchens and the receptionists switch over the phones at eight. Environmental Services pack up by nine. NorDx picks up the last delivery, and a hush descends over the neighborhoods.
"The Cedars doesn't have set visiting hours," explains Hannah. "Couples can watch a favorite TV program together in the evening, like they used to do at home. Adult children can visit after they've tucked their own kids in bed."
NIGHT SHIFT
"Night shift gets so much wonderful one-on-one time with our residents," Hannah says. "Some of our seniors are real night owls! Staff are always fixing midnight snacks, having a quiet conversation or playing a hand of cards with our seniors. And just as the night owls are turning in, our early birds start to wake up and we're ready to help with their morning routine."
Early risers enjoy the smell of hot coffee and waffles drifting down the halls. Sunlight floods the lobbies and day rooms. Another day at The Cedars has begun.