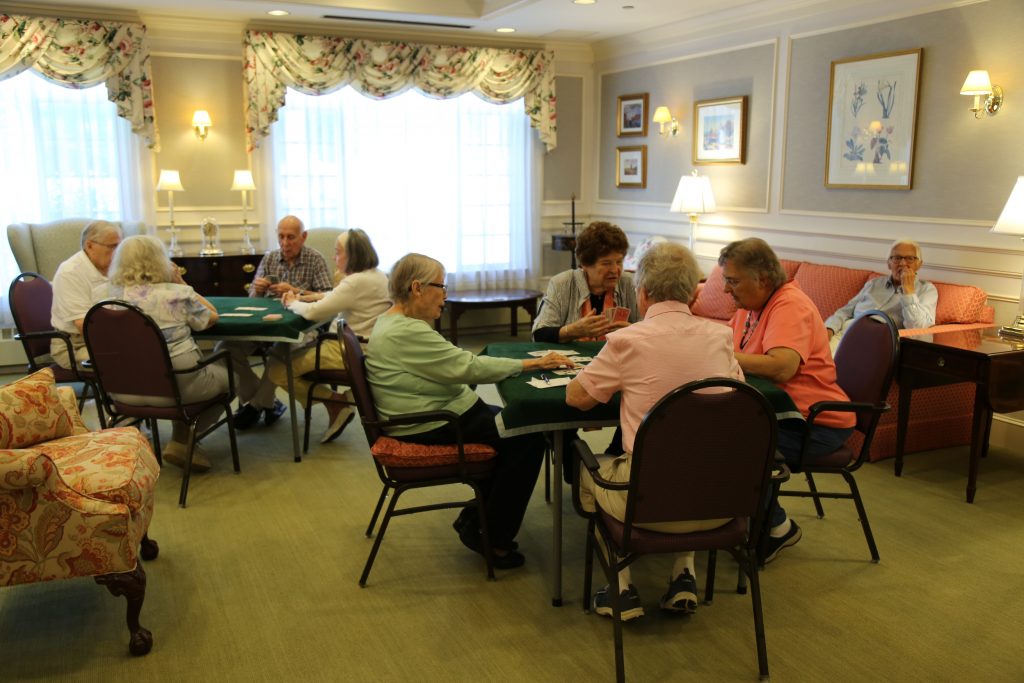 When Les Brewer first moved to The Atrium at The Cedars in the spring of 2013, he was pleased to hear that there was a standing bridge game every Thursday evening.  At the time, there were a few tables of avid bridge players who would routinely meet.  Over the course of the year, Les has taken on the role of coordinating the game and opening the fun to new players and novices alike.  "Everyone enjoys the hour and a half on Thursday nights – it keeps the mind occupied and it's very social," Les explains.
When Les was growing up he would watch his grandparents play bridge, learning the game through observation.  Whenever there was an opportunity to play, he would join them.  In college, bridge was a popular early-evening activity in his Beta Theta Pi fraternity house at the University of Maine.  Then, while stationed in Paris, France during WWII, he would walk to the Red Cross building where there was a bridge game almost every night.  "It kept many of us sane," Les explains. Once married, his busy family life allowed him to play only occasionally with friends. Sixty-five years later, Les is back in the game.
Last spring, Les invited anyone interested in bridge to join – starting with a discussion of general guidelines that incorporate the four parts: bidding, playing, scoring, and etiquette.  Soon interest increased and today there is a consistent group of 18. "If they haven't played, we'll teach them to play in whatever method works for them."
And there's always room for more. "If I hear of someone who has played bridge in the past, I'll invite them to join.  Part of running bridge is looking for new players because not everyone is available all the time."  He continues, "If I hadn't done this, I would have done something else.  I enjoy seeing things happen and they will if you manage them."
For more information on The Cedars Retirement Living, please call our marketing representative at 207-221-7100.