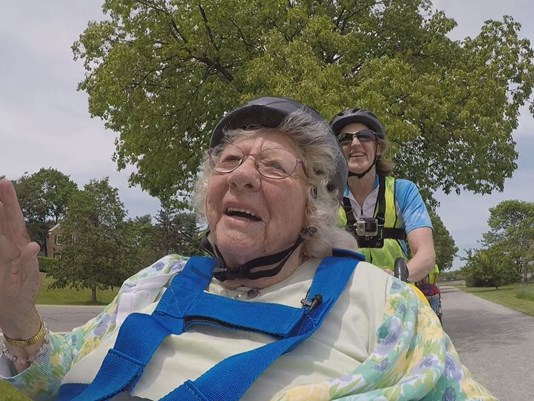 The Cedars Learning Community™ Continues to Advance Senior Care
DO YOU REMEMBER THE RUSH of freedom that filled you the first time you rode a bike? Residents at The Cedars were able to revisit that feeling as part of a new research project on mental health in collaboration with the University of Southern Maine graduate program in Occupational Therapy and the Portland Wheelers.
The Portland Wheelers are familiar faces on our campus. These hardy cyclists volunteer to take mobility-challenged seniors on regular rides on specially equipped tandem bikes. While these rides are always popular at The Cedars, the students at USM were looking for a correlation between regular rides and improvements in depression (a common affliction in later life). A positive correlation would encourage other senior living communities to offer similar programs.
For the purposes of this research study, seniors with a history of depression were treated to regular rides over the course of six weeks. They completed an eight-point survey prior to and after each ride. The Cedars clinical staff also performed an evaluation based on the Geriatric Depression Scale, which measures externally observable changes in key indicators.
The program also provided Mood and Behavior assessment data gathered on all residents each quarter as required by federal regulations. The results were promising. Residents felt the rides were time well spent 99% of the time, and declared the ride enjoyable 93% of the time. Resident moods did show improvement after the rides and neither a patient's age or level of dementia seemed to affect their perceptions. Almost all riders showed fewer indicators for depression after completing the Portland Wheelers program. While this sample size will not support speculation about the durability of the effects or allow generalization to a larger resident population, these promising results reinforce the value of this program and our commitment to researching advances in
healthy aging!
For more information on Life Enrichment at The Cedars, contact Nick Viti, OTR/L, Life Enrichment Manager at 221-7000.