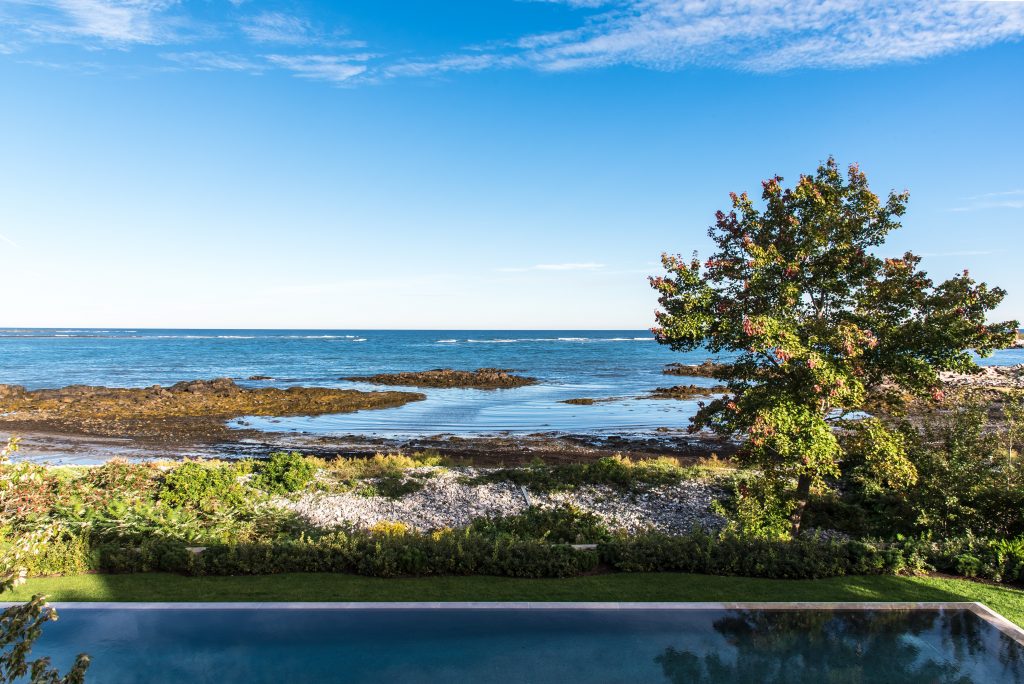 A thrilling view of the Maine coast—and a thought-provoking point-of-view on aging—captivated guests at The Cedars End-of-Summer Cocktail Party, hosted by Marjorie and Robert Ory on September 27.
THE ORYS, LONGTIME FRIENDS OF The Cedars, divide their time between Boston and a stunning oceanfront home in Kennebunkport. In 2003, when Marge's mother became a resident at The Cedars, they became strong supporters of our innovative programs.
Knowing that the Grow Bold With Us campaign is poised to transform not only The Cedars but the standard of senior care statewide, they generously opened their Kennebunkport residence to offer family and friends from York County a first-hand preview of the exciting advances ahead.
Guests received the warmest of welcomes from their hosts and representatives from The Cedars were on hand to share a look into some exciting advances in aging.
AN ENTIRE INDUSTRY COMES HOME
Kathryn Callnan, President and CEO, described the Household Model of care. Seniors of today and tomorrow do not want the institutional model of care their parents and grand-parents experienced. The Cedars has commited to creating a true home where every aspect of care is completely customized to each resident. Kathryn explained how empowering it is for staff to train for multiple roles in order to support the daily, in-the-moment decisions our seniors make about how to live their lives, the same way we all do in our own homes.
GETTING HOME FASTER Angela Hunt, Chief Operating Officer at The Cedars, shared how the Rehabilitation Center at The Cedars continues to develop ways to speed seniors on the road to recovery:
Our Five-Day Intensive Therapy Program for younger joint replacement patients provides a wide range of therapies seven days a week, 365 days a year.
For patients with greater health challenges, our advances in medically complex care continues to set The Cedars apart. The Cedars is the first and only rehabilitation program in Maine to offer cardiopulmonary telemetry monitoring, supporting seniors with cardiac disease.
The first skilled nursing facility in Maine to provide peritoneal dialysis, The Cedars offers this less invasive, more convenient treatment alternative to hemodialysis.
AGING WELL
Brian DesPres, Director of Rehabilitation Services, shared his insights into active aging with the Top Fitness Trends for 2019. The big takeaway? No matter how you do it, just keep moving! Brian urged guests to find their passion and stick with it to get the most energy and enjoyment from our later lives.
The Cedars is grateful to the Orys for the opportunity to share their groundbreaking vision for future of senior care.