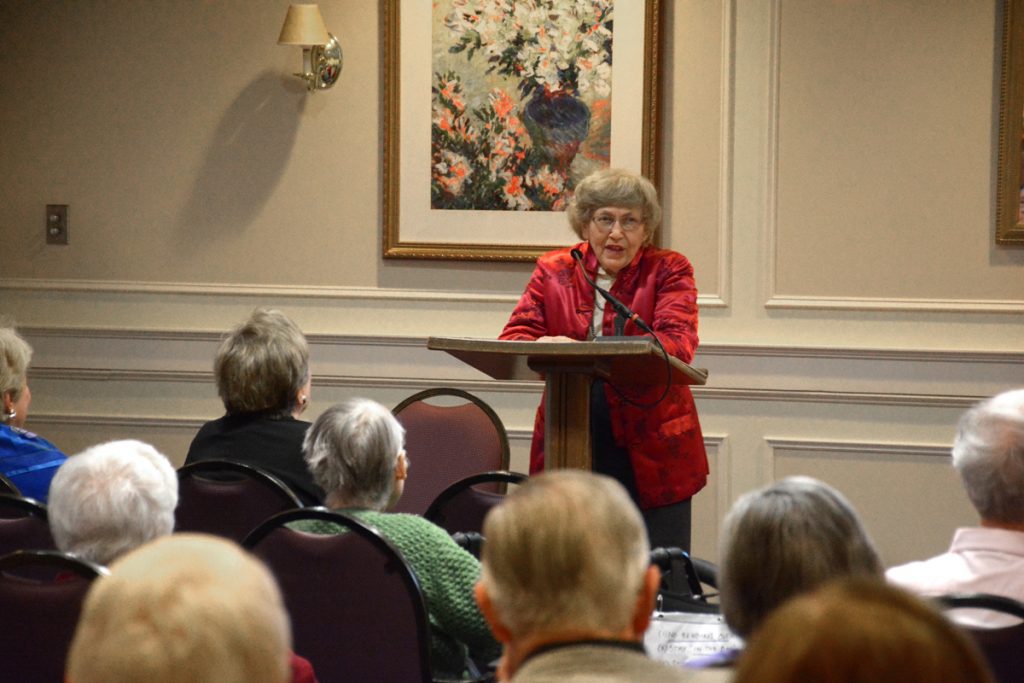 The Cedars was  honored to recently host Dr. Liliane Willens  as she presented to a packed house, sharing her riveting story of growing up in China during World War II under the pressures of foreign invaders and civil war as recounted in her most recent book, Stateless in Shanghai.  Lily spoke energetically for more than an hour about her experiences living in Shanghai, often injecting humor among the political and social details of this tumultuous time.
Scholar, memoirist and humanitarian, Dr. Willens has conducted hundreds of lectures and interviews across the United States, Europe, Asia and into Africa. She has presented at Georgetown University, Massachusetts Institute of Technology, Stonehill College, the University of Maine, the Library of Congress, and to the Joint Harvard/MIT Washington Clubs.
Born of Russian parentage in the former French Concession of Shanghai China, Liliane and her family experienced World War II under the Japanese military occupation and after the war, the Chinese civil war between the Nationalists and the communists. While waiting for her immigration visa, Liliane lived two years under the newly established People's Republic of China.
Upon immigrating to the Unites States, Liliane studied French and 18th Century French Literature at Boston University and taught at Boston College as well as Massachusetts Institute of Technology.  Later moving to Washington, DC, she worked for the US Agency for International Development and the Peace Corps.
The Jews of Shanghai was part of The Cedars Community Education Series. For more information about our community, contact us at 207-221-7100.